About GWT Earthmoving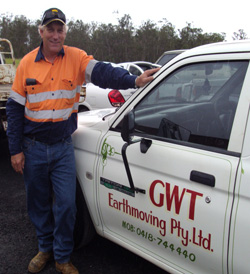 Noel Giebel began his working career as an Apprentice Diesel Fitter in the Ipswich region. Throughout his trade, Noel maintained a passion for excavation and earthmoving, a passion he shared with his father and now also with his son. Noel followed this passion and gained his operator qualifications and has now owned his own earthmoving business for the past 27 years.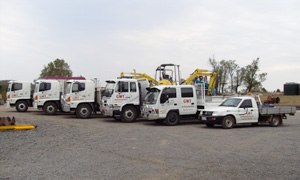 Noel still operates machines but primarily adopts a strong mentor roll for younger operators, sharing his wealth of knowledge and experience and developing the younger team members. Noel is also pleased to be working side by side with his son Jeffrey who shares the same vision for GWT Earthmoving.
GWT Earthmoving brings a strong reputation of excellence and an extensive knowledge base of the earthmoving and construction industry.  We have exceptional working relationships with local goods-providers, suppliers and other earthmoving and construction companies and our local knowledge base and networks are a significant resource that we bring to any contract or job we attend.
The GWT Earthmoving team is motivated, highly qualified and experienced; they have excellent above-award work conditions and a strong commitment to safe and ethical work practices. With our large and modern fleet of earthmoving equipment, GWT Earthmoving is your "one stop shop" for all of your earthworks needs. Our earthmoving equipment.
Our employees are well-trained in using our plant and machinery, have all required safety certificates and licences and are responsive to the requirements of the work they are given. GWT Earthmoving has a fleet of well-maintained plant and machinery that enables us to complete projects efficiently and effectively. We have a range of attachments that complement our plant and machinery, giving our fleet more flexibility in meeting the requirements of a given project. Our safety vision.